When you love what you do, you have to use and serve the best
Perched on the end of a public pier with a panoramic bay view on Newport's historic Bayfront, Saffron Salmon showcases northwest cuisine utilizing local and fresh ingredients. As sea life frolic outside the window, guests dine amidst contemporary art in this visually stunning eatery.
A local's favorite, Saffron Salmon is a magical dining experience with its stunning view, great food, superb service and unique northwest wine selection. This is a very special Newport, Oregon restaurant!
Saffron Salmon is closed for our annual vacation. We will re-open on Thursday, November 30, 2017 with our regular business hours. You can reach us at saffronsalmon@yahoo.com if we can assist you. Cheers and see you in December.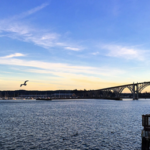 Treat Mom like a Princess at Saffron Salmon on Mother's Day, Sunday, May 14, 2017. It's the perfect tradition to spend a beautiful day on the Yaquina Bay enjoying lunch or dinner with us. Lunch begins at 11:30 and is served until 2:30. We will open for dinner at 5:00 pm. Blackberry mimosas will be […]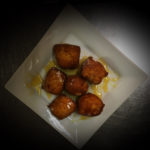 Have you ever had a beignet in New Orleans? You know those little fried pillows of dough heaped with powdered sugar? In November Michael tasted his first beignet in the French Quarter and was instantly hooked. As we travelled back to the Oregon Coast, he immediately started researching this NOLA tradition. I knew beignet taste […]