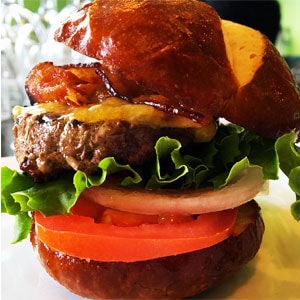 Uncompromising quality means a superior meal. When you love what you do, you have to use and serve the best.

"As you dine on saffron-scented salmon, you'll watch commercial fishermen unloading their catch just outside the window. Fresh just doesn't get any fresher than this. Keep an eye out for sea lions, too. At lunch, go for the saffron salmon sandwich." ­
­— Frommers
About the Saffron Salmon
Quality ingredients are a must at Saffron Salmon. We use only wild salmon from the west coast. Our salmon is usually local, fresh whenever possible and troll caught by reputable fishermen.
We buy live Dungeness crab from the fishing vessel Winter Hawk, when in season, and pick the meat ourselves to ensure quality and freshness.
Our lamb in our lamb burgers is from Walker Farms of Siletz, Oregon. We make use of the farmer's market during the summer months along with other local vendors. We strive to serve locally sourced goods, be sustainable and GMO free.